About Terri Babers
Life Coach, Leadership Coach, Trainer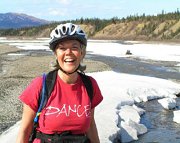 Hi, I'm Terri Babers, a Life and Leadership Coach and Trainer in Fairbanks Alaska. I'm also a Mediator, a Trainer, and just resigned from teaching public speaking at UAF as Adjunct Faculty ... and I'm a mother and a daughter, a grandmother, a friend, and a committed community member.
I call myself and this website Positive-Changes-Coach because as a Leadership and Life Coach, I work with people who want to make a difference in the world. They are motivated to move in positive ways through changes and transitions in their life. With coaching help, people can lead themselves to make those changes in their lives more easily, with a greater sense of well-being, and fulfillment.
You probably visited my "About" page because you're curious about who I am, my qualifications as a Life and Leadership Coach and a Trainer, and why you should take the time to read what I have to say. Well, her you go!

First, I'll explain what a "sense of well-being and fulfillment" means to me. It means ...
living my core values every day of my life; 1) discovering and appreciating what works, 2) never-ending learning, 3) connecting with people, and 4) making fun and laughter a part of just about everything I do.
reveling in diverse ideas, dreams, and goals ~ personal and professional (can you really differentiate the two?)
experiencing an optimistic, positive, opportunity-focused frame for the world, rather than a pessimistic, negative point, problem-focused view,
feeling appreciation and gratitude in my journey,
consciously recognizing and connecting with my "who" in a meaningful way, every day of my journey,
and making the best use of my "who" to make a real difference in the world.

All that is a big part of my "who," the very essence and core of who I am. In life and leadership coaching, I found a way to utilize my "who" professionally to help other people find and utilize theirs ... WOW! That is what being a life coach is for me....
I use amazing materials from the John Maxwell Leadership program along with proven strategies from the science of well-being.  Also, the power of reflection and personal journaling is an amazing way I help people "... feel more satisfied, more engaged with life, find more meaning, have higher hopes, and probably even laugh and smile more, regardless of [your] circumstances." (that's Dr. Martin Seligman's definition of Authentic Happiness). 

Why I Decided to Become a Life Coach
Being a life and leadership coach is great for lots of reasons.  Being a life coach lets me help people connect with their passions, goals, and dreams. That usually means helping them get to know their "who," and to trust their own inner expert .... I love doing that, and I'm good at it.
Being a Life Coach and a Leadership Coach gives me the opportunity to help people generate ideas, and recognize the value of those ideas, and to follow through on some of them!
And one thing I'm passionate about is ideas!
Being a life coach is a fantastic profession for me because I'm a flaming extrovert and get a lot of my energy from being around a variety of people and listening to all kinds of ideas. Coaching allows me to get to know people with all kinds of possibilities. Don't get the wrong idea ..... introverts make great coaches too, they just find a different satisfaction in being a life coach.
What Qualifies Terri Babers to "Be" a Life Coach?
Formal Coach Training I hold a Masters degree in Professional Communication from the University of Alaska Fairbanks, and care deeply about learning and higher education. So I selected the Institute for Professional Excellence in Coaching (iPEC), a 400-hour intensive, and highly respected coach training program with roots in the empirical research foundation from the Science of Wellbeing: Positive Psychology, Neuro Linguistic Programing, and the Energetic Coaching Process. I am a Certified Professional Life and Leadership Coach, a Career and Professional Development Coach, Life Potentials Practitioner and Energy Leadership Index Master Practitioner.

And most recently, I'm honored to be an Independant Certified John Maxwell Team Coach, Trainer, and Speaker. 

Get In Touch With Me!
You can read more about my  credentials on my  LinkedIn Profile. 

Meanwhile, I'd love to hear from you. If you have any comments or questions about the information on my site, or if you have an suggestions about how I can improve it, please contact me through the form below.